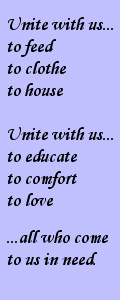 ---
"The True Meaning of Christmas" Coloring Contest

A big "Thank You!" to everyone who participated in our True Meaning of Christmas coloring contest. Our committee had a wonderful time viewing the creative artwork of the students. We are so pleased they shared their pieces with us!

Our overall contest winner is:

Sophia V. from St. James White Oak

Our grade level winners are:

Grade 1 — Lydia G. from St. Margaret of York
Grade 2 — Nola S. from Annunciation
Grade 2 — Alex M. from St. Teresa of Avila
Grade 3 — Charlie R. from Blessed Sacrament
Grade 4 — Kara V. from St. Margaret of York
Grade 5 — Mackenzie H. from Our Lady of Grace


Congratulations to everyone! We truly appreciate your taking time to join us in raising awareness of the poor and homeless. We wish one and all a very Merry Christmas and blessed New Year!

---
---
---
About Us
CUP is a coalition of six non-profit agencies with a history of direct services to the poor.
Member Agencies
Bethany House Services
Housing, Education and Assistance for Homeless Families
Mary Magdalen House
Showers, Toilets, Clean Clothes and Telephones
Our Daily Bread
Hot Meals, Hospitality, Emergency Services, and After-School Kids Club
Over-The-Rhine & Walnut Hills Kitchens & Pantry
Groceries, Meals, Care and Hospitality
Society of St. Vincent de Paul
Rent, Food, Clothing, Home Visits, Pharmacy, Wellness and Vision Programs
Tender Mercies
Permanent Housing, Security, Community and Supportive Services for homeless adults with mental illness.