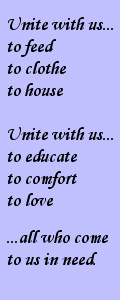 CUP Bridge Group

About 20 years ago, a group of women were playing bridge to benefit a school in danger of closing. Unfortunately, the school eventually closed, but the group voted to continue playing cards to support an agency that funded various charities. They chose CUP. This meant they could play bridge while helping others in need. Over the years the group has enjoyed each others' company knowing it was strictly "BRIDGE FOR FUND." The group numbers about 28 players who play once a month. We are truly thankful for these ladies who "bridge" the gap between faith and action and love to have "fund."
---
Meet Kellen R.
Since Kellen R. was four years old, he has been involved in charity work. His main focuses have been helping children that are less fortunate than him.

For three years, he worked with his family and neighbors on the "Light Up Waterford" luminary evening by putting together kits of candles, cups and sand that were sold to raise funds for Bethany House Services, a homeless shelter on the west side of Cincinnati that serves homeless women, children and families. The total efforts of that project raised $5,000.

Yearly, Kellen participates in the Bethany House Services Children's Carnival. He helps to collect donations and purchase school supplies that are given out in the Wheel of Learning Booth. Kellen has been the lead worker in the booth for four years, ensuring that kids who would not otherwise have school supplies, leave the carnival with backpacks full of school and art supplies. "I like making sure that kids have the supplies they need for school. It's fun to see them win the prizes."

When Kellen was six, he started his annual lemonade stand to help CUP. He liked the idea of helping CUP, because he could help more than one charity at once. "I want to help lots of people and CUP helps me do that." His lemonade stand introduced CUP to many neighbors, who also decided to lend a hand. Kellen created and distributed flyers to his customers that explained what CUP did and how to get involved. One of his friends started a coffee stand on Friday mornings during the summer and gave the proceeds to CUP.

When he was ten years old, Kellen learned of an opportunity to double his lemonade proceeds by submitted a grant to Bake Me Home, Kellen entered and won the grant money. Brother Giancarlo Bonutti joined Kellen at the Cincinnati Museum Center to receive the recognition and donation which applauded the fact that children can volunteer and make a difference.

Kellen's volunteer efforts resulted in being recognized as a leader at his school and he was awarded the Princeton Dream Keepers award for his charity work. In elementary school, Kellen also served on the Video Team, where he helped create and produce the televised morning announcements. He had the opportunity to lead and record an account of his school's history that was presented to the school board. Kellen was selected to present a wreath at the Veteran's Memorial in Sharonville for Veteran's Day last year. His favorite school fundraiser, was Pennies for Patients, to raise money for children with leukemia. His concern was so great, that in third grade, he took his whole piggy bank in to donate. When his teacher called to make sure his mom knew, she was stunned. "He didn't ask or tell me that he had planned to do that," his mother Tricia said, "but I shouldn't be surprised by his generosity."

Kellen is an avid swimmer and has participated in the Junior Olympics for the past three years. He is especially proud of winning the Spirit Award for his summer swim team in 2007, 2008, 2009, and 2010. In 2010, Kellen raised the largest amount of donations for the team's swim fund raiser, where he swam a mile (64 laps). He loves being a Swim Buddy to other swimmers on his summer team. For the past two years, Kellen has volunteered for the Special Olympics and assisted the swimmers with disabilities get to their lane assignments. "Cheering for the swimmers and seeing how proud the athletes are to swim in the pool makes me appreciate all that I have."
---
Back