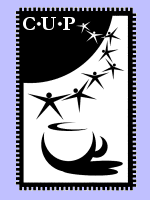 Privacy Policy
CUP
A 501C3 Non-profit Corporation

Our Commitment to Privacy
Your privacy is important to us. To better protect your privacy we provide this notice explaining our information practices.
This Web site is owned and operated by or on behalf of CUP. This policy may be changed or updated from time to time. If you have any questions about our Privacy Policy, you can contact us at:
CUP
P.O. Box 14548
Cincinnati OH 45250
(513) 471-4990

Overview
Thank you for visiting the CUP Website and reviewing our privacy policy. CUP does not collect personal information about visitors to our Website unless you choose to contact us and provide that information to us. CUP does not sell, exchange or release your personal information to third parties without your consent. Once we obtain your consent, we consider it valid until revoked by you.
CUP will not share donor mailing lists with other non-profits or sell your information to third party mailing firms.
Information Collected and Stored Automatically
If you visit our Website, we automatically gather and store the following information about your visit so that we can track the use of our Website in order to make improvements. This information is stored and used in the aggregate only, and is not used to identify or contact you personally:
The IP address from which you access our Website
The name of the domain from which you access the Internet (for example, aol.com, if you are connecting from an America Online account)
The type of browser and operating system used to access our Website
The date and time you access our site
The pages, files, documents and links that you visit
The Internet address of the website from which you linked to this Website
Donations Through The Network For Good
Donations to CUP are processed by the Network For Good website. Personal information that you provide to them is bound by the Privacy Policy of the Network For Good. You may also make donations anonymously through the Network For Good, in the event you do not wish to provide any personal information to CUP with your donation.
If You Send Us Personal Information
CUP will only collect personal information which you knowingly and voluntarily provide by, for example, sending emails or making non-anonymous donations through the Network For Good. This information may be in the form of a name, address, and/or email address. If you provide us with personal information, we will normally respond to your inquiry, request or order. We will never share your name or information with third parties unless you affirmatively authorize us to do so.
How We Use Personal Information
Personal information that you provide to us will solely be used for your interactions with CUP, unless you affirmatively authorize us to share it with a third party.
How We Secure Personal Information
The CUP website collects no personally identifiable information; there are no user accounts or logins on the site. Personal information about donors provided to CUP by the Network For Good is stored in an offline database. No personal information can be accessed online at the CUP website. Information collected by the Network for Good is covered by their Privacy Policy, available here.
How to Contact Us About Personal Information
If you have provided us with personal information, either through email or as part of a non-anonymous Network For Good donation, and wish that information to no longer be stored by us in our offline database, or provided to any third party you may have affirmatively authorized us to share it with, just contact us by mail at CUP PO Box 14548, Cincinnati OH 45250, or by phone at (513) 471-4990, or by email at for removal.
Children and Privacy
CUP is concerned about protecting children's privacy. We do not collect personally identifiable information from children.
Linking
Within the CUP Website there are links to other websites. When you visit these third party websites, you leave our Website and no longer will be subject to our privacy policy. CUP is not responsible for the privacy practices nor the content of other websites we link to, and such link is not intended to be an endorsement of any other website or its content.

Back